Children Of Bodom

greatest group ever Alexi Liaho (lead guitar/vocals) is my god i worship him he is one of the best guitarists around today technically and with his ideas. Best songs are downfall, hate me everytime i die, warheart and hatebreeder. I wanna go see the Lake Bodom when im older.Children Of Bodom are from Espoo, Finland, about 10 km from their capital Helsinki. Children Of Bodom was found at the end of 1997 when their debute ablum 'Something Wild' was released. Before that the bandname was 'Inearthed'.

Inearthed was orginally found by Alexi and Jaska in 1993. Then Ale, Henkka and their former keyborder J.Pirisjoki joined the band. They released

two demos

, the first one was called '

Ubiquitos Absence Of Remission

' and contained four songs. It was recorded in 1994 at Astia Studios. The second one was called '

Shining

' and had also four songs on it. It was recorded 2 years later. The sound on both demos is (for a demo) quite good, but Inearthed is clearly different to what Children Of Bodom play nowadays. Inearthed is melodic death metal.

When Inearthed fired their keyboarder (or he left, I don't know yet...) Janne joined the band. First only as session keyboarder for the 'Something Wild' recordings, but later as permanent member. Inearthed's 'Somehting Wild' was originally planned to be published through a small belgian record company, but Sami Tenetz (Thy Serpent) gave the 'Somehting Wild' demo to Spinefarm's boss Ewo Rytkönen who liked it so much that he did a contract with them. The contract contains three records. When Inearthed knew that they had contract with Spinefarm they broke up to the belgian company and changed their name to 'Children of Bodom'.

The story which hides behind this name is a finish murder case. Bodom is a small lake in Finland, about 20 km north from Helsinki. In the year 1960 on the 5th of June this lake was the place where a very scarry murder case happened.

Four teenagers, two 15 year old girls and two 18 year old guys, camped at this lake when an insane one came and killed all teenagers but one with a knife. The one who survived went crazy afterwards and is (still) in psychiatric treatment. A few years later (I guess it must have been about 1970) one old man said that he had been the lake Bodom murderer, but the police proofed that he could not have been it. So the murder was never solved.

The victims names are Tuulikki Anna. She was female and 15 year old. Björklund Maili, also female and 15, Boisman Seppo, male and 18 years, and finally the one who has survived the lake Bodom: Gustafsson Nils, male and also 18.

Shortly after 'Somehting Wild' was released in Finland by

Spinefarm

in November 1997 Children Of Bodom got a contract with

Nuclear Blast Germany

for europe-wide distribution.

Children Of Bodom recorded one new song called 'Children Of Bodom' and released a limited single which stayed number 1 in finish charts for eight (!) weeks without promoting the single!

Then things started to happen quite fast. The first Nuclear Blast Tour (February 1998, together with Hypochrisy, Benediction and Covenant) was successful, however Janne could not tour with them because of his final exams at school. A friend of the band, Erna, replaced him. The second NB tour followed in September (this time with Gorgoroth, who cancelled and Night In Gales played instead, Dismember, Agathodaimon and Raise Hell), again without Janne. This time Kimberly Goss (ex-Dimmu Borgir/Therion, Alexi's girlfriend) helped out on keyboards.

In the meantime some new songs had been written and their second album 'Hatebreeder' was recorded. Right before the release of this album the released the single 'Downfall', which also contained a cover version of Stone's 'No Commands'. Then 'Hatebreeder' was released early 1999 followed by even more success and in June (7th-14th) Children Of Bodom went to Japan and played three shows there, one in Osaka and two in Tokyo, all sold out. The two in Tokyo were recorded and released as limited edition CD-Box with 10 photocards. Then next NB tour followed in September, with In Flames, Dark Tranquility and Arch Enemy (This time with Janne)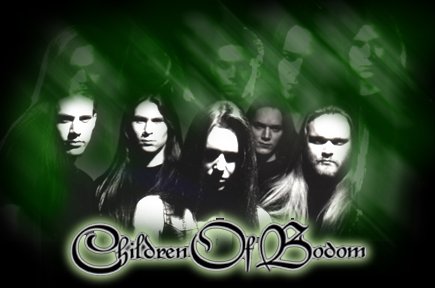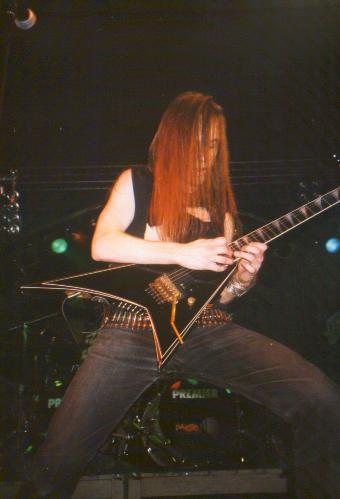 above is a picture of Alexi Liaho AKA god
Cradle Of Filth This is my second fave group Dani Filth is the most talented metal vocalist he has such a good range from his high pitched shriek to his death growl and he write the most creative lyrics known to man. Gian is one of favourite guitarists around he is technically amazing and his own work is fantastic. Favourite songs are Halllowed be thy name (yes i know its a maiden cover but its sooooooooo good), Amor E Morte, Lord Abortion, The principle of evil made flesh, saffrons curse, cthulu dawn, from the cradle to enslave and beneath the howling stars.
Slayer are rather amazing probablly the most respected metal group after iron maiden and black sabbath. The team of kerry king and jeff Hanneman are fantastic. Fave songs seasons in the abyss and raining blood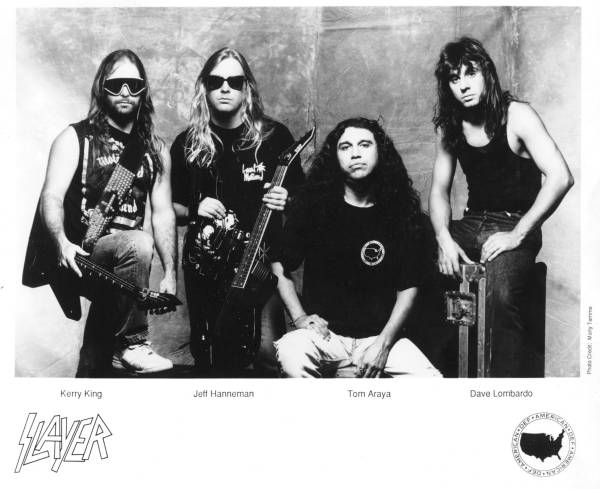 In Flames

It was the year 1990, Jesper decided to take leave of the band Ceremonial Oath, that he was currently in, together with Anders Fridén and Anders Iwers (Tiamat)

He wanted to make music in a different direction, and he teamed up with Johan Larsson and Glenn Ljungström to form IN FLAMES. The gang made a demo and shipped it off to Wrong Again records in order to get a record-deal, which they did. The owner of the company enjoyed the music so much that he immediately gave them a deal over the phone, as they rang him up one night. The next day, they sat down and wrote the album Lunar Strain, which was released some time later, and became a big underground success. They had some "in and out members" , and borrowed some from different bands. People that have been a part of IN FLAMES since the beginning, are Mikael Stanne and Anders Jivarp (Dark Tranquillity), Anders Iwers (Tiamat), Henke Forss (Dawn), Daniel Erlandsson (Eucharist, Arch Enemy), and a few more. The band then released a mini-cd called Subterranean, that became the "breaker" for IN FLAMES, in terms of getting out off the underground scene, that is, and led them to get a license deal with German company Nuclear Blast for the next record, and they have been there since then. After some time, the boys were getting tired of constantly borrowing people in order to make a record, or do a decent live show, and they asked Anders Fridén and Björn Gelotte to join the band, on vocals and drums, and they accepted. IN FLAMES were for the first time a band with a real line up.

They recorded and released yet another record . The Jester Race, which became a huge success, worldwide, and the band started to get some fantastic attention all over Europe, and in Japan, where they were licensed to Toy´s Factory. They went on a festival tour together with Samael, Grip inc. And Kreator - this was the first big thing that happened to them, but definetly not the last. Some gigs here and there over the next year, led to both Johan and Glenn feeling that they had to make a choice where their prioritees were , and sadly, they choose not be a part of IN FLAMES any more. They both announced, unexpectedly after the recording of Whoracle, that they were leaving, and Björn, Jesper and Anders were left with a finished record and half a band.

Luckily they were good friends with Peter Iwers and Niklas Engelin, who both happened to play bass and guitar, and they filled in at the end of the recordings, to do a mini-tour with Dimmu Borgir. This worked out fine and the two gentlemen were asked to stay in the band permanently, and so they did. Together the group continued onto a successful tour in Europé and an amazing week in Japan, where they did their first two shows. Japan welcomed the Swedes with warm arms, and they had an amazing experience. As they return to Sweden, Niklas leaves the band, due to some different opinions, and the fact that he wanted to focus on Gardenian, his other band. This is the biggest turning point for IN FLAMES, as they decide to switch Björn from drums to guitar, (being a guitar player originally), and recruit Daniel Svensson ( Sacrilige) on Drums. This works out wonderful, and they record COLONY, the biggest success so far.

The Colonization takes them around the world, to Europe, USA and Japan, and this tour is an amazing experience for IN FLAMES, that finally receives the attention they´ve been waiting for. As they play full houses almost everywhere, the party goes on for a few months, and the response is excellent all over the world.

In August of 2000, after a few years of successful touring , the release of Clayman is a fact, after spending 3 months in the studio. This record spins off really well, and the sales are overwhelming and it knocks out the previous record sales in a few months.

After doing festivals with Dream Theater, Slipknot, Testament, Methods of mayhem, etc, a world tour was to expect. In Flames aimed for Japan and Europe, which was squeezed in between 2 American tours. This was the same round as last year, only this time bigger places, more people and more material. In Japan, Jesper received an award from BURRN! As the number 1 songwriter of the year. The tours were a huge success once again. Peter Iwers did not join them on all of these tours as he had a new arrival back home, that he stayed home with instead, a baby girl, but he joined in for the Scandinavian and Japan dates, and was temporarily replaced by Dick Löwgren from Armageddon for the other tours. In the year 2000, approximately 150 shows were performed by In Flames , and then a well deserved vacation was taken by the members. 2001, Peter is back and the band does a few single shows in Sweden, including a headline gig in Gothenburg, which was featured in 4 television channels, and aired live on the radio.

Charts this year were very high, including #4 in Japan, both group and record, # 3 in Canada´s greatest metal mag- Brave words and Bloody Knuckles, # 1 in Metal Maniacs, and # 17 on the official Swedish charts, to name a few.

A video is shot for Only for the Weak, and the band went on a mini tour in Europe, where they played 13 shows in front of 20 000 people, needless to say, it was a huge success.

Next: summer festivals, including Wacken Open Air, Rock Machina to name a few, then the release of a live album : The Tokyo Showdown, in August, before heading over to the US for another tour.

Today´s line-up is:
Björn Gelotte - Guitars
Daniel Svensson - Drums
Peter Iwers - Bassguitar
Jesper Strömblad - Guitars
Anders Fridén - Vocals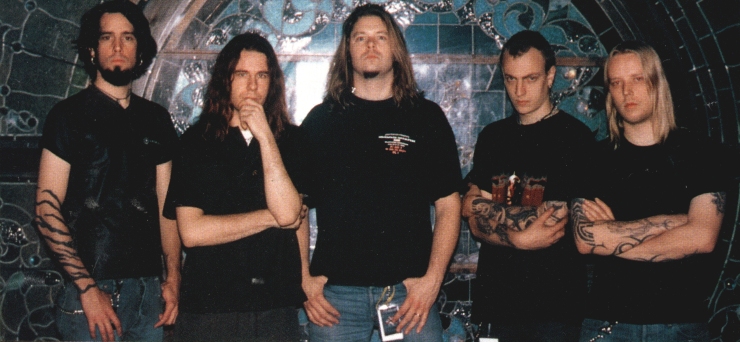 Iced Earth

Few emotions register as deeply in the human subconscious as fear. Few historical events are meaningful enough to enter the collective memory of a nation. Merging the recollection of your first-known terror with the significance of a sociological phenomenon, Iced Earth's Horror Show is destined to become a landmark album in the consciousness of a world hungry for something musically extraordinary.

Briefly known as Purgatory and founded by the burning ambition of a 16-year-old runaway in Indiana, Jon Schaffer's vision has remained unadulterated since day one because of the obvious: nothing is more important to him than the music he writes and the fans who support Iced Earth. Remaining faithful and dedicated to defiant, non-commercial heavy metal, Iced Earth have indisputably established themselves as one of the most dynamic and musically multi-dimensional bands in the world. Terrorizer Magazine aptly describes their characteristic sound this way: "Take the best bits off [Metallica's] Ride The Lightning and Master Of Puppets, combine them with equally classic Priest and a healthy shot of vintage Maiden and you're about halfway there."

Iced Earth's self-titled debut spread steadily throughout the European underground in 1991, while in North America the metal market was soon to undergo a drastic change. Through their persistence of vision and in spite of the U.S. trend-laden music scene, Iced Earth never succumbed to the pressure of going mainstream. Songwriter and guitarist Jon Schaffer added vocalist Matthew Barlow to the band's nucleus in 1995, which strengthened the band's writing and solidified its forceful delivery. The incredible praise Barlow earned for his work on Iced Earth's third studio album, Burnt Offerings, brought only a hint of the powerful things to come. The Dark Saga, with its trademarked orchestral elements, was released in 1996 and heralded the band's breakthrough in the United States. Sales of Iced Earth's back catalog increased with every newfound fan. Band members frequently faced inquiries about their demo recordings and unreleased rarities. Using the benefit of updated recording technology for their 1997 offering Days Of Purgatory, they meticulously reconstructed all of the material from their infamous Enter The Realm demo tape and reworked selected songs from their first two classics, Iced Earth and Night Of The Stormrider, so fans could enjoy classic Iced Earth material written between 1986-1994. Now, with the legacy of seven albums, they have built an unwavering legion of loyal-to-the-death followers around the world. In turn, they have returned that loyalty ten-fold to their fans. In 1999, they embarked on a successful six-week national U.S. tour in support of Something Wicked This Way Comes. In Europe, they dominated stages at the Gods Of Metal festival in Italy, the Dynamo festival in The Netherlands, and the legendary Wacken Open Air festival in Germany. Words often fail the attempts to describe first-hand accounts of the raw power felt at an Iced Earth concert.

Jon Schaffer has returned for the first studio album in three years with lead singer Matthew Barlow, fellow guitar player Larry Tarnowski, and new drummer Richard Christy (Control Denied, Death, Incantation, touring drummer for Demons & Wizards). Using the trusted production skills of Jim Morris at Morrisound Studios in Florida where Iced Earth have recorded all of their studio work, they have unquestionably harnessed their collective professional talents to create a monumental contribution to the genre of heavy metal. Adeptly adjoining Schaffer's penchant for musically technical constructions with his impeccable storytelling abilities, Horror Show extols a brilliant and dramatic seamlessness from the first note to the last. Encapsulated here is a ravaging collection of songs bearing tribute to the timeless legends of evil that have plagued our nightmares since childhood: The Werewolf, Damien Thorne, Jack The Ripper, The Mummy, Dr. Jeckyl and Mr. Hyde, The Creature From The Black Lagoon, Dracula, Frankenstein. Collectively, this album is an invocation of all your greatest fears, blatantly challenging you to look at your own malevolence. With artwork expertly handled by the team of Danny Miki (Spawn and The Creech comic book artist) and Travis Smith (cover artist for Jag Panzer and Opeth), both have created another masterful design package that's as richly detailed and haunting as the music and lyrics. This is an album generations of fans will be justifiably proud of. This is metal for the new millennia.

Decapitated
Im Not Usually fond of heavy death metal but thsi band is fucking brilliant i love the song Humans Dust. Winds of creation is a superb album, decapitated have very technical music and are extremly talented especially for their age ( some members are still in school ). i have a feeling that this group is goin to change death metal