On This Page You Will Find Information About Me The Webmaster
Hi My names danny woods im 15 and im from Hale in Manchester Not too many scallies were i live NAH !!!!!!!
I hate scallies cause they are just pathetic. Any hoo i love metal music sooooooooooooooo much ! (melodic death metal being the best followed by black metal) children of bodom are my fave absolute group cause their music is very complex technical and sounds amazing. My other fave groups include cradle of filth, dimmu borgir, darkthrone, emperor, slayer, pantera, in flames and im getting into satyricon and old mans child LONG LIVE BLACK METAL !!!!!!!!!!!!!!!!!!!!!!!!!!!!!!!!!!!!!!!!!!!!!!!!!!
I love pissin about wiv my mates liam, weed, bellhouse, jared, naboo (invincible bastard), matty guy, Charlie Royle (Need i say it again), Kate marshall (who is very fit indeed),Heather (Lovely !) and nikki (blonde is good).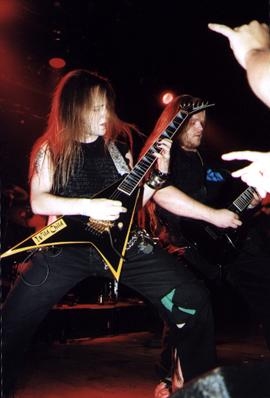 Me Driving When Roadtripping in America